HP 500 510 800 designjet top 10 issues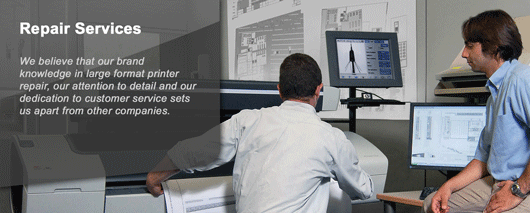 TOP 10 - Repairs for the HP 500 - 800 Designjet
Error Code 86:01 - Worn Carriage belt (24" Belt / 42" Belt). Belt starts to breakup leaving belt dust inside printer and making clunking noise from motor with build up of rubber on gear.
Error Code 86:01 - Dirty Encoder strip hard to clean replace. (24" Encoder / 42" Encoder)
Error Code 11:11 - Trailing Cable badly connected or worn. (24" Trailing Cbale / 42" Trailing Cable)
Error Code 21:10 - Service Station failure.
Error Code 81:01 - Paper feed motor failure.
Error Code 02:10, 02:13, 12:11 - Carriage Assembly failure.
Error Code 03:10 - Power Supply failure.
Error Code 05:10 - (Only applicable to HP DesignJet 800 Series) Formatter failure.
Blue handle breaking (Pinch-Arm Mechanism)
Some random errors can be caused by faulty printhead /ink cartridge. Take all consumables out, then switch printer back on.
To obtain a quotation for our repair services or maintenance contracts please contact us on 0121 747 2499 or request a quote online by clicking here.
</